GRB is an Award-winning Community Bank that's Local, Personal, and Entrepreneurial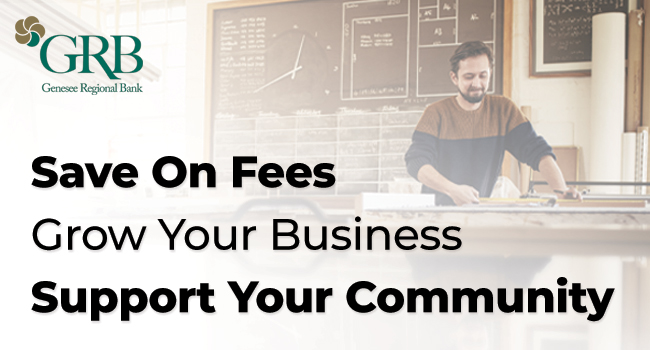 At Genesee Regional Bank (GRB), our Commercial Banking team helps ensure your banking relationship is a competitive strength that strives to reduce costs, create a personalized service experience, and deliver strategic advantages that improve your bottom line.
That's Community Banking. Community Building.
That's GRB.
---
A Special Offer from GRB – Account Fee Analysis
Let us show you the numbers.

We'll perform an analysis on your current business account so you'll know if a community bank, like GRB, can help your business save money.
Personal service, competitive rates, and helping our community grow – just a few of the reasons to consider banking with a community bank like GRB!
For 12 months, your new GRB business account will not accrue fees for:*

Monthly Account Maintenance/Service Charge
Transaction fees (includes checks paid, check deposits, deposit slips, electronic debits, and electronic credits.)
Robust online banking capabilities
Positive Pay fraud prevention (wait, that's always free of charge at GRB!)
ACH Origination
Virtual Check Deposit

*New business banking customers are those that have not had a Business Money Market or Business Checking account open with GRB currently or in the last six months. After 12 months from the date the account was opened, account terms and conditions revert to standard fees, but are eligible to receive an earnings credit on qualifying services.

Businesses must meet account opening requirements to qualify. Early account closure fee of $250 if account is closed within 90 days of opening. Only the fees noted in the list above will be waived. Businesses could still incur fees for ACH returns, additional statement copies, check images on CD, copy/fax services, currency deposited, deposit assessment, foreign check collection (non-Canadian), legal process, negative balance, Notary, SmartPay Express, sweeps/ZBAs, incoming/outgoing wires, return deposit items, stop payments, negative balance fees, audit confirmation, Canadian checks deposited, check orders, money orders/certified checks, minimum balance fees, and lock box.
---
Why GRB?
GRB is an Award-winning Community Bank that's Local, Personal, and Entrepreneurial
---
Ready to Get Started and See How Much You Can Save with GRB?
"*" indicates required fields