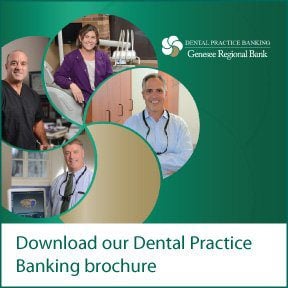 Too often, dental practices fail to capture the attention of larger financial institutions that lack the ability, or frankly, the motivation to serve their unique banking needs. At GRB, we have a different attitude. Dental practices are exactly the kind of banking clients we love to serve.

We understand that beyond your need for standard practice operating accounts, you need a bank that will partner with you to understand your practice and personal goals. A bank that will become a trusted advisor in helping you sustain and grow your practice. A bank that understands your specific needs and finds creative ways to meet them.
GRB is that bank.
Here are some of the exclusive benefits of working with GRB's Dental Banking Team:
For more information, download our exclusive Dental Practice Banking brochure or contact us.