GRB on Point with Online & Mobile Banking Trends, Announces Enhancements to Mobile App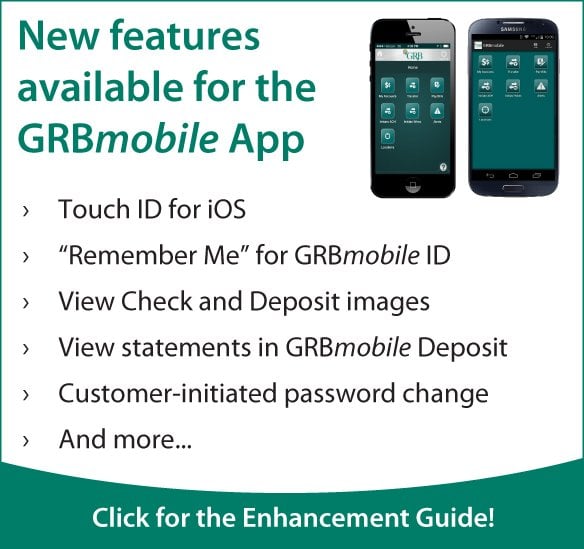 Online and mobile banking are now the most preferred forms of banking, with more than half of all Americans managing their accounts online, according to recent survey results released by the American Bankers Association (ABA). GRB is pleased to note that it is following this trend closely and has introduced additional enhancements to its GRBmobile App for Android and iOS.
In the ABA's annual survey, online banking with a computer or tablet came in at 55% and mobile devices registered 18% when respondents were asked, "Which method do you use most often to manage your bank account(s)?" The boost in mobile use was a full 6 points over the previous year's survey.
"More people are walking around today with their mobile device in hand, and banks have made it easier than ever for them to access their accounts anytime and anywhere," said ABA SVP Nessa Feddis. "It's no surprise that millennials and other digital natives are embracing the convenience of technology to conduct quick transactions. Mobile banking is also a helpful real-time option for those who have a smartphone but not a computer."
The chart at the right provides an overview of the ABA's survey results.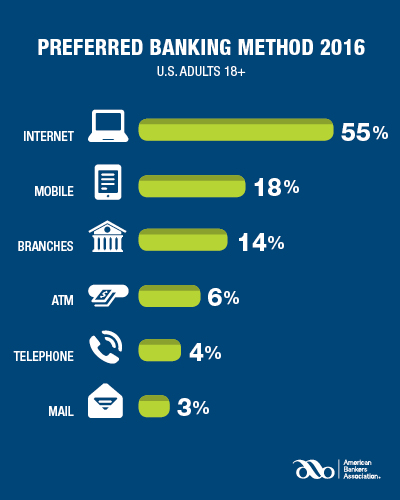 "The old adage of 'be where they are' rings true with banking," said Feddis. "People like options, and today's banks offer a diverse menu of banking methods to meet the needs and preferences of their customers."
GRB is actively adding new features and capabilities to its online and mobile banking solutions. The most recent enhancements to the GRBmobile App include a number of usability and security features such as:
Touch ID for iOS
Viewing Check and Deposit images
Viewing statements in GRBmobile Deposit
Customer-initiated password change
And more…
To find out more about the latest updates to GRBmobile, view the GRBmobile Enhancement Guide.
To view a PDF file, download Acrobat Reader.
---