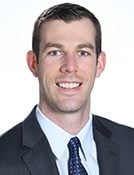 Mortgage Originator, Syracuse
NMLS #2138420
[email protected]
432 N. Franklin St., Suite 10
Syracuse NY, 13204
cell: 585.278.4885
office: 315.229.4123
fax: 315.451.1730

Tim was born and raised in Rochester, N.Y., and is a graduate of SUNY Cortland currently residing in Syracuse, N.Y. Prior to entering the mortgage banking industry, he purchased his first home in 2019 with a mortgage from Genesee Regional Bank. Tim received superior customer service and was thoroughly educated about the home buying process along the way. Due to his excellent experience, and desire to help others fulfill their dreams of homeownership, Tim pursued the mortgage banking industry as the next step of his career path. He takes care of all customers with the same service he was provided. As a recent first-time homebuyer, Tim can easily relate to and guide his clients. He has the ability to make an extremely stressful and anxious process smooth and rewarding.
Tim specializes in first-time homebuyer programs, investment property products and has the flexibility to offer conventional, FHA, VA, USDA, SONYMA and Portfolio mortgage products. His constant availability, hyper-communication skills, market expertise and ability to relate to his clients set him apart.
A community bank serving Central and Western N.Y., Genesee Regional Bank's processors and underwriters are located under one roof. This allows for speedy closings and quick problem resolution. GRB is genuinely interested in the betterment of the local community and its surrounding areas, because he is raising his family in the region, too. From the first point of contact to closing, Tim ensures his buyers are fully educated about the home buying process and he is available at all times for any questions/concerns that arise. Responding and assisting with any and all needs in a quick manner is his top priority.
In addition to assisting clients with the purchase or refinance transactions, Tim is also an avid soccer player, golfer and skier. Tim and his wife, Alex, reside in Syracuse with their son, Harrison, and Yellow Lab, Ryder.