Same Day ACH Phase 1 Begins September 23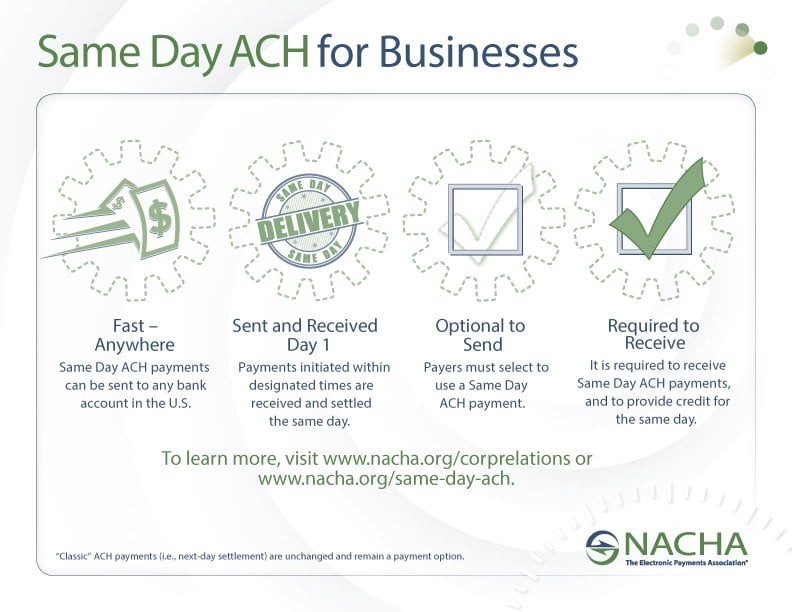 On Sept. 23, 2016, the banking industry will introduce a new faster electronic payment option for eligible transactions known as Same Day ACH or "SDA". Introduced by the National Automated Clearinghouse Association (NACHA), this change will enable ACH Originators to send eligible transactions to settle on the same day as initiation.
In order to make the adoption of this new option as smooth as possible financial institutions, including GRB, will be rolling out this new capability in three phases:
Phase 1 will be effective on Sept. 23, 2016. It requires all institutions to receive eligible Same Day ACH payments. Offering origination of Same Day ACH transactions will be optional for all institutions.
Phase 2 will become effective on Sept. 15, 2017. It will add the availability of processing eligible Same Day ACH debit transactions.
Phase 3 will be effective on March 16, 2018 and will require institutions to post Same Day ACH transactions by 5p.m. local time.
There will be no additional charge to receive a Same Day ACH transaction and no impact to traditional ACH transactions, as they will continue to settle within the normal 1-2 day timeframes.
Unfortunately, international transactions and transactions above $25,000 will not be eligible for same day processing. Initially, only credit files will be eligible until the implementation of phase 2. Phase 2 will include debit transaction processing.
---