New GRB Headquarters Reflects Growth, Focus on Personal Touch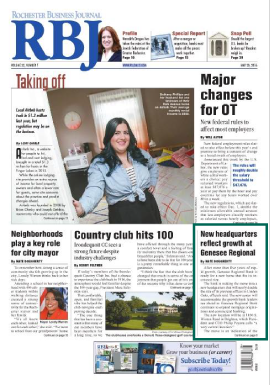 We are pleased to be featured in today's edition of the Rochester Business Journal in an article discussing the move to our new headquarters. The article traces GRB's growth from just 17 employees 13 years ago to more than 100 today. That growth could not have occurred without the dedication of our employees, partners and clients.
Even though banking transactions are increasingly conducted online, it is the relationship that remains critical for GRB and its clients.
"This is a relationship business, and as we hold loans we grow relationships and that has a snowball effect," said GRB President and CEO Phil Pecora in the RBJ article.
Andrew Carpentier, president and owner of Rochester Magnet and a GRB client for six years, also reinforced the importance of the relationship in banking.
"It's the personal touch," Carpentier added. "They know our business inside and out…so we're not some foreign entity to them or lost like you would be in a big bank."
We are thrilled to be in our new location and we look forward to continued growth as we help local businesses leverage new opportunities, help homebuyers establish roots in our community, and help individuals and families secure their financial future.
Thank you, Rochester!
---