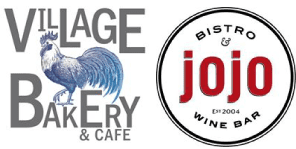 We are pleased to congratulate The Village Bakery and Cafe, JoJo Bistro & Wine Bar, the Pittsford Farms Dairy & Bakery and ROC and Soul Fitness on their move to the Village of Webster on the northeast side of Main Street.
As the property owner of the largely retail space since 2014, GRB has been looking for the right mix of businesses for the stretch of shops, now known as North 43: The Shops at Main Street. It took time, but the wait has been worth it. The renovated and reimagined space for these businesses (and others!) promises to be a great area for Webster residents to gather and enjoy a wide variety of delicious restaurants and other services. North 43: The Shops at Main Street is a great example of partnership, creativity and community.
We congratulate Charlie Fitzsimmons, owner of The Village Bakery and Cafe and JoJo Bistro and Wine Bar and visionary for this project, as well as the other businesses that will be adding great new destinations to the village scene. Look for additional updates and photos as this project progresses…and find out details about the development in a recent Democrat & Chronicle article.
---