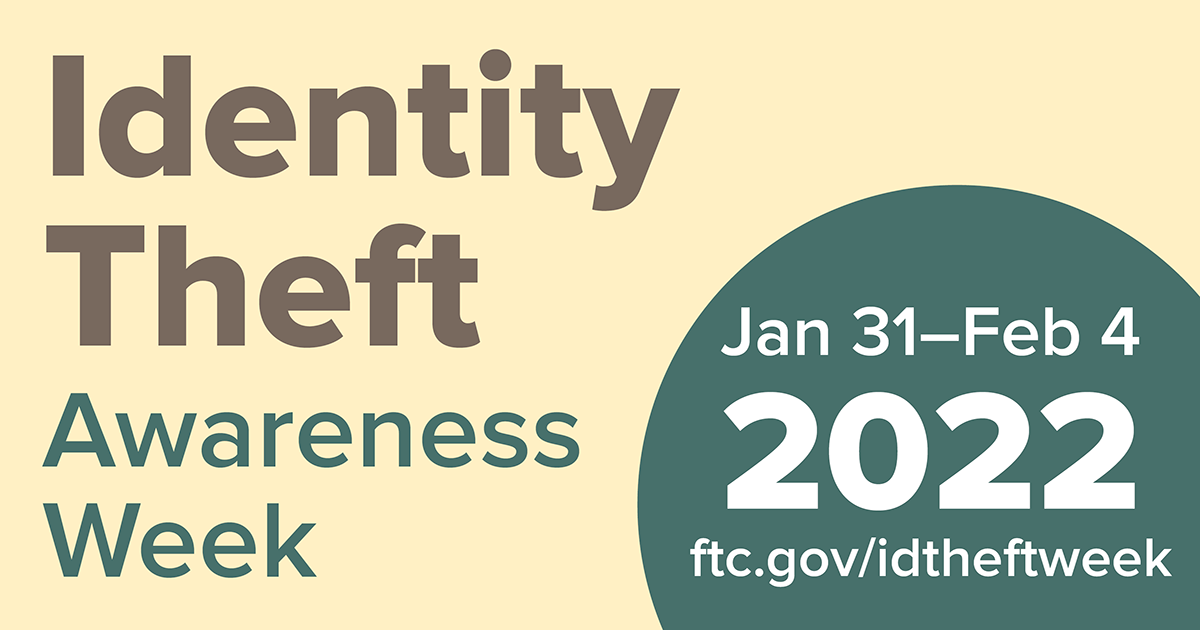 This week is Identity Theft Awareness Week. Identity thieves have been busier than ever during the pandemic. Scammers are out to steal personal information and use it to apply for credit, unemployment benefits, file taxes, buy things, or get medical services – on your dime.
The FTC reports that the median amount of money lost to identity theft is $800. Unfortunately, 21% of identity victims reported losing more than $20,000 to identity thieves in 2020.
The Federal Trade Commission has assembled a number of resources to help consumers learn more about trending issues in identity theft and how to keep their information safe and secure.
Identity Theft Can Take a Number of Forms
Scammers continue to find new ways to find and use your personal information. The FTC has resources to help prevent specific types of identity theft:
Learn what child identity theft is and how to detect it. Find out ways to protect your child's personal information and how to take action if someone steals your child's identity.
Credit freezes and fraud alerts can protect you from identity theft or prevent further misuse of stolen personal information. Learn what they do and how to place them.
Learn what it is, how to protect yourself, and how to know if someone stole your identity.
Learn what medical identity theft is. Understand the ways to protect yourself and know if someone is using your medical information.
Learn what tax identity theft is, what you can do to guard against it, and what to do if it happens to you.
According to the Internal Revenue Service (IRS), identity theft can also be a serious threat to business, partnership, estate, and trust filers. Learn how to protect your business and employees from thieves trying to steal sensitive information. Once they have the information, they can use it to file a fraudulent tax return for a refund or to commit other crimes.
Need Help? Get a Personalized Plan from the FTC
The FTC also provides the www.IdentityTheft.gov website. The site offers consumers who are victims of identity theft with a way to report their issues and receive a personalized recovery plan.
We hope you'll spend some time looking over the resources from the FTC and IRS. Take extra time to think about ways to secure personal and business data during Identity Theft Awareness Week.
---