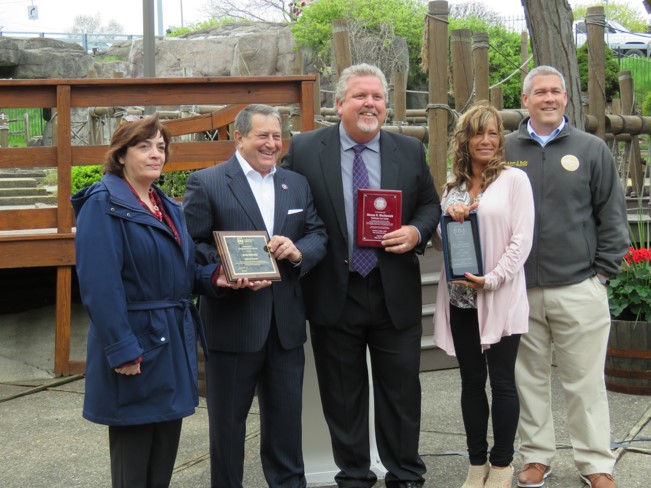 During National Small Business Week, we are thrilled to extend our sincere congratulations to Steven Olschewski, owner of Clubhouse Fun Centers in Greece and Henrietta. Mr. Olschewski was named U.S. Small Business Administration district and New York State "Business Person of the Year" during this year's celebration of National Small Business Week. This is the first time in 25 years the SBA award has been received by a Rochester, N.Y. business.
County Executive Adam Bello, Congressman Joe Morelle, and Victoria Reynolds, SBA Deputy District Director, presented the award to Mr. Olschewski and his wife, Marsina. The award recognizes Mr. Olschewski's perseverance during the pandemic and the subsequent recovery of his family fun center business. After purchasing the Greece location in 2018 with an SBA loan from GRB, Mr. Olschewski ended 2021 with both locations having their best year yet. Mr. Olschewski was nominated for the award by Lydia Birr, Sr. Economic Development Specialist with the Monroe County Economic Development Office.
"Small business owners like Steven are tough as nails. Their drive, determination and ability to take calculated risks while also tapping into a pool of resources available for help, build a better economy in Western New York and we salute them during National Small Business Week," said SBA Buffalo District Director Franklin J. Sciortino. Congratulations, Steven and Marsina!
---