We are pleased to announce GRB has ranked no. 6 in the the mid-size employer (100-250) category for "Best Companies to Work For New York". This is a significant achievement during a year filled with challenges.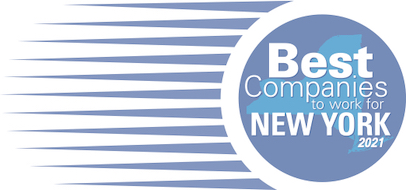 Awards for the "Best Companies" are based on feedback provided through employee surveys, which focus on:
Leadership & Planning
Corporate Culture & Communications
Role Satisfaction
Work Environment
Relationship with Supervisor
Training, development & resources
Pay & Benefits
Continued Success
Continuing to serve our customers during a pandemic demanded constant flexibility and patience. Because of Team GRB's tremendous effort, we were able to maintain our stability and efficiency and provide support for small businesses and families throughout the Greater Rochester area.
GRB's eighth appearance on the "Best Companies" list is truly a testament to our strong leadership team and the commitment of our employees. GRB would not be what it is without our employees, and we appreciate each and every individual.
Well-Deserved Celebration
In celebration of making the "Best Companies" list, GRB celebrated with a fun virtual event.
After a trying year, receiving the "Best Companies" award was a special way to recognize all the ways that we supported each other, our customers, and the community last year.
---