GRB Named one of Rochester's Top Workplaces for Second Year in a Row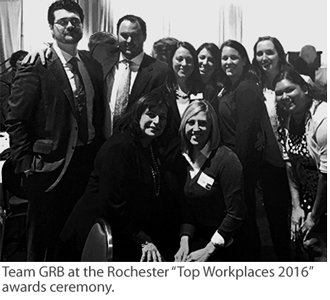 GRB is pleased to once again be named one of Rochester's "Top Workplaces." So, first order of the day, a big "thank you" to the employees, partners and customers who helped make this happen for us. As a community bank, you are all an integral part of our success. Thank you.
We also want to say "congratulations" to the many GRB customers and partners who are also on this year's Top Workplaces list. We are proud to work with you.
Finally, we take a significant amount of interest in this annual survey not only because it highlights local companies, but also because it provides valuable insight into what means the most to employees. A quick summary of points from this year's survey:
Feeling genuinely appreciated was the single most important factor when evaluating their workplaces (70 percent)
Believing that the company is going in the right direction (68 percent)
Feeling like they are a part of something meaningful (66 percent)
Having confidence in the leader of the company (64 percent)
Feeling that the company enables its workers to operate at their full potential (64 percent)
It is our goal to make sure we create a culture at GRB that continues to build on these critical traits. There are so many opportunities for us to keep growing and helping the Rochester community with business banking, personal banking and residential mortgage needs. We are just getting started!
Thank you again to our employees, customers and partners for their support. You are all "Tops!"
---