GRB Mortgage Raises Awareness and Funds for Veterans Outreach Center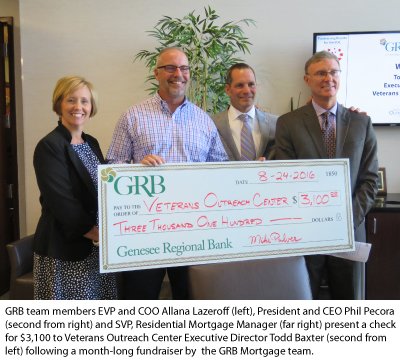 Capping off a month-long fundraising effort, the GRB Mortgage team was pleased to present a check for $3,100 to Veterans Outreach Center (VOC) Executive Director Todd Baxter. GRB Mortgage donated $25 to the VOC for each mortgage application submitted during the month of July.
"Real money doing real things for our veterans," said Baxter as he accepted the check. "Thank you for your efforts and for just helping us raise awareness."
Raising awareness of the struggles our local veterans face is an ongoing mission for the VOC. Veterans who reach out to the VOC often need a wide range of critical services including benefits counseling, therapy, housing, job training and more.
Baxter noted that last year the VOC helped more than 1,000 veterans and worked with local employers to place more than 400 in good-paying jobs.
"We also run a shelter with 28 beds for homeless veterans," said Baxter. "It's always full."
Each year, the GRB Mortgage team helps dozens of veterans purchase homes through Veterans Administration loans. But for those struggling with the transition when they come home, more assistance is often necessary. The VOC's programs and services are all available to veterans free of cost.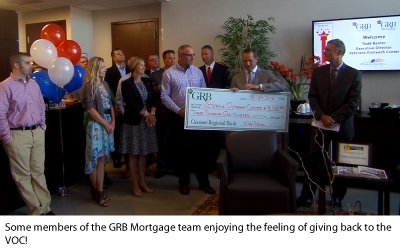 "This is an amazing thing we've done," said Jacqueline Sloan, a GRB Mortgage Sales Assistant and the wife of an active duty soldier.
Thank you to the GRB Mortgage team for their efforts in making the VOC fundraiser a success. Congratulations, team!
---