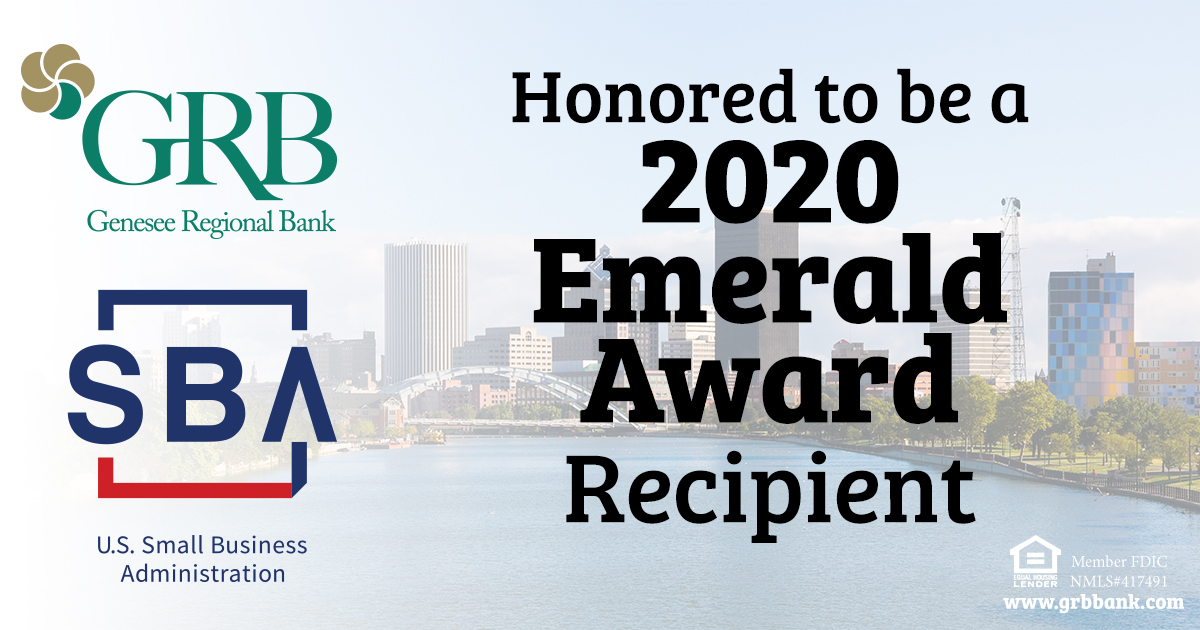 Genesee Regional Bank is pleased to be recognized by the U.S. Small Business Administration with an Emerald Award for its lending activities for the period from Oct. 2019 through Oct. 2020.
The bank closed 45 loans totaling $19.4 million. According to the SBA, those loans supported 851 jobs in our community. As published in a recent issue of the "Rochester Business Journal," this also makes GRB the top SBA lender in the Rochester area.
In addition to the new businesses and business expansions made possible through SBA lending, GRB also assisted more than 577 local businesses with their Paycheck Protection Program (PPP) loans. Nearly 35% of these businesses were not GRB customers, but they needed help. We created a process from the ground up and started submitting loans the moment the SBA opened its online portal.
Six months later, we continue to work with these businesses to submit their paperwork for loan forgiveness to ensure that these employers — businesses on which this community depends — can continue to be here for all of us.
This aligns with the Independent Community Bankers of America President and CEO Rebecca Rainey Romero's assessment of community banks' response to the pandemic and overall capabilities in a recent article in "American Banker." In fact, Romero points out that, "Small Business Administration data shows that community banks made nearly 2.8 million PPP loans — more than half of the program's total loans — that helped save millions of jobs."
"The 5,000 community banks across the nation continue to get the job done without fail while serving as the backbone of local economies through nimble decision-making, personal relationships and yes, technological innovation," added Romero.
As a community bank, we don't have a branch on every corner. You won't find us on your stock ticker, and our name isn't on a sports arena (well, maybe a Little League field).
But we are proud to say that you will find GRB right here, right when you need us. GRB remains Here. For You.
---