The small business community will serve as the foundation of our community's recovery from the Coronavirus pandemic. At GRB, we are ready to assist as a Small Business Administration (SBA) preferred lender.
As the provisions of the Coronavirus Aid, Relief, and Economic Security (CARES) Act are implemented, we are committing significant resources to helping our business customers access these programs.
Paycheck Protection Program (PPP)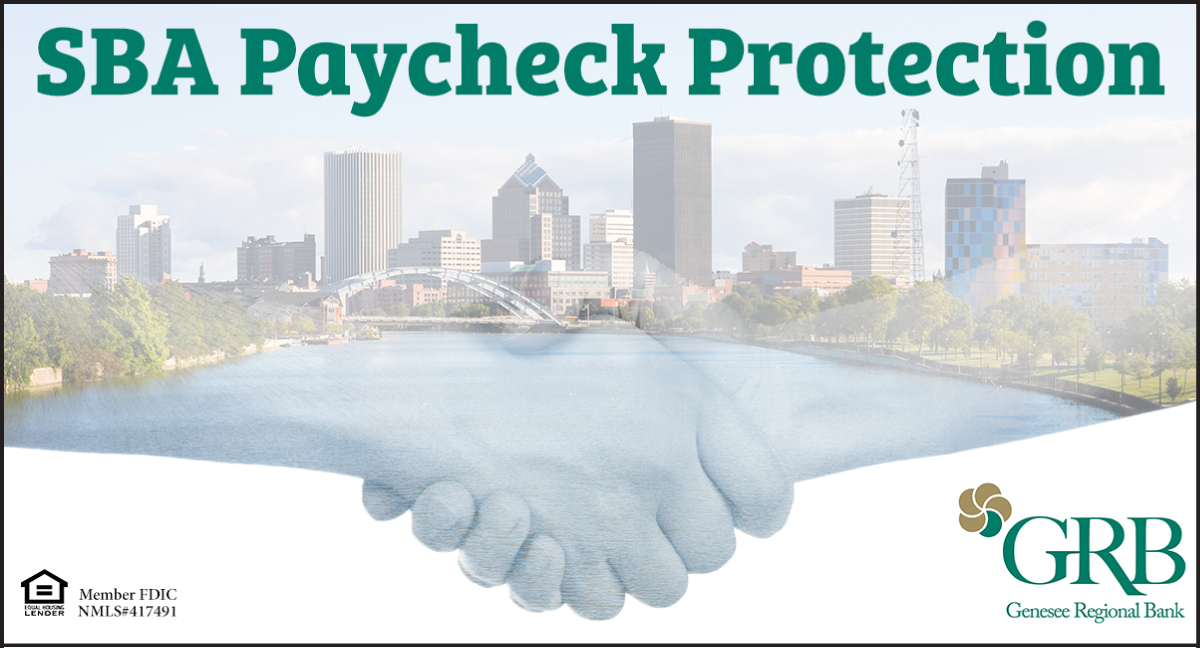 The Paycheck Protection Program (PPP) is designed to provide a direct incentive for small businesses to keep their workers on the payroll. This guaranteed, unsecured loan program will cover 2.5 times average monthly payroll expense up to $10 million to help eligible businesses, organizations and self-employed persons during the COVID-19 outbreak.
Under this program, the SBA will forgive loans if all employees are kept on the payroll for eight weeks and the money is used for payroll, rent, mortgage interest, or utilities.
UPDATE: On June 16, the Treasury Department and Small Business Administration released an updated version of the PPP Loan Forgiveness Application and implemented a new 3508EZ streamlined Loan Forgiveness application.
The 3508EZ form can be used by borrowers who:
Are self-employed and have no employees, or
Did not reduce their employees' salaries or wages by more than 25 percent and did not reduce their employees' number or hours, or
Experienced reductions in business activity due to health directives related to COVID-19 and did not reduce the salaries or wages of their employees by more than 25 percent.
As a lender, GRB is awaiting on our responsibilities in the process. Once more information is available, we will provide details on GRB's process for receiving forgiveness applications. In the meantime, review any changes and further clarifications on the PPP from the SBA and Treasury on the CARES website or the SBA PPP pages.
Eligibility
All businesses, including non-profits, Veterans organizations, Tribal concerns, sole proprietorships, self-employed individuals, and independent contractors, with 500 or fewer employees, or no greater than the number of employees set by the SBA as the size standard for certain industries.
Terms
The maximum loan amount is $10 million. The amount of loan forgiveness will be equal to the amount of payroll costs and other designated business operating expenses incurred in the eight (8) weeks following the date of loan origination, not to exceed the principal amount of the loan. Not more than 25% of the forgiven amount may be for non-payroll costs. All loans under the program will feature:
Interest rate of 1.0%
Maturity of 2 years
First payment deferred for six months
100% guarantee by SBA
No collateral
No personal guarantees
No borrower or lender fees payable to SBA
Acceptable loan uses
Payroll costs, including benefits
Interest on mortgage obligations, incurred before February 15, 2020
Rent, under lease agreements in force before February 15, 2020
Utilities, for which service began before February 15, 2020
GRB business customers are encouraged to work directly with their GRB Relationship Manager (RM) to apply for relief under the PPP. Your RM will also be able to make additional tools available to assist you as you assemble your application. With the widespread need for recovery assistance, we are encouraging businesses to gather information and prepare their application as quickly as possible.
Economic Injury Disaster Loan Summary (EIDL)
Under the Economic Injury Disaster Loan (EIDL) Program, the SBA offers loans of up to $2 million for small businesses to recover from temporary losses following a statewide economic injury declaration, including losses they are experiencing due to the COVID-19 outbreak. EIDL Loans are not forgivable and are available to pay fixed debts, payroll, accounts payable, and other bills that cannot be otherwise paid. The CARES Act (the Coronavirus Aid, Relief and Economic Security Act) updated the EIDL Program through December 31, 2020.
Eligibility
In addition to small businesses, private nonprofits, small agricultural cooperatives, sole proprietorships (with or without employees, and independent contractors), and businesses with 500 or less employees are eligible. Eligible businesses may apply for an EIDL loan of up to $2 million if it suffered substantial economic injury as a direct result of COVID-19 and was in existence on January 31, 2020.
Loan terms and grants
For small businesses impacted by COVID-19, the interest rate will be 3.75% and for nonprofit organizations impacted by COVID-19, the interest rate will be 2.75%. While a business's application for an EIDL Loan is pending, the business may apply for a grant of up to $10,000 to be paid within three days of application. Grants do not need to be repaid, even if the application for an EIDL Loan is denied.
Acceptable loan uses
Loan proceeds may be used for COVID-19 related expenses such as:
Paid sick leave to employees unable to work due to the direct effect of COVID-19
Maintaining payroll to retain employees
Meeting increased costs to obtain materials unavailable from the business's original source because of supply chain issues, rent or mortgage payments
Repaying certain obligations that cannot be met due to revenue losses
Non-COVID-19 expenses including working capital necessary until resumption of normal operations and expenditures necessary to alleviate economic injury.
Relationship between the Economic Injury Disaster Loan (EIDL) and the Paycheck Protection Program (PPP)
If a borrower has received an EIDL Loan unrelated to the COVID-19 outbreak, it may apply for a PPP Loan due to COVID-19. Businesses that receive an EIDL Loan in connection with the COVID-19 outbreak may not receive a PPP Loan for the same purpose, but they may refinance their existing EIDL Loan with a PPP Loan if they meet the eligibility requirements. Grants awarded under the EIDL Program are subtracted from amounts ultimately forgiven under the PPP.
Enhanced SBA Debt Relief
The SBA Debt Relief program will provide a reprieve to businesses with existing SBA loans as they overcome the challenges created by the health crisis. Under this program:
The SBA will pay the principal and interest of new 7(a) loans issued prior to September 27, 2020.
The SBA will pay the principal and interest of current 7(a) loans for a period of six months.
The SBA has committed to covering payments for loans due beginning on March 28, 2020. GRB will be working with our SBA customers to ensure any automated loan payments for existing SBA loans are suspended for the duration of this program. After verifying the status of their current SBA loan payments, business owners should also suspend automated payments for SBA loans coming from other financial institutions to avoid making duplicate payments.
GRB will continue to send monthly statements to our SBA customers to provide a record of the covered payments. Specific questions about loan payments can be directed to our Relationship Associate team at 585.249.1540 or via email at CommercialRA@GRBbank.com.