The small business community serves as the foundation of our community's recovery from the Coronavirus pandemic. At GRB, we are ready to assist as a Small Business Administration (SBA) preferred lender.
Monroe County Fast Forward 2.0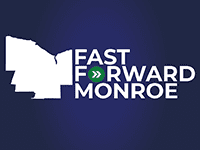 Monroe County announced the launch of Fast Forward Monroe 2.0, an expansion of the successful Fast Forward Monroe Small Business Grant Assistance initiative. Under FF 2.0, the county will join with the Urban League of Rochester, PathStone Foundation, and the Ibero-American Action League to make the program more accessible and provide comprehensive application help and support.
The initial Fast Forward program, launched in October 2020, helped well over 1,500 local small businesses survive the pandemic with $22 million of funds from the Coronavirus Aid, Relief, and Economic Security (CARES) Act.
Fast Forward 2.0 is funded with an additional $20 million in CARES Act money, which must be distributed by the end of this year. In addition to offering businesses more personalized help with completing their applications via the partnership with Urban League, Ibero and PathStone, the Monroe County Department of Planning and Development has added nine temporary workers in order to make the approval process faster.
Eligible businesses can receive grants of either $10,000, $15,000, or $20,000 depending on the number of full-time employees. The money can be used for rent, payroll, operating expenditures, or COVID-related business expenses and other funding shortfalls.
Businesses that did not receive funding in the first version of the program will be given priority under Fast Forward 2.0. To apply, visit www.monroecounty.gov/fastforwardmonroe.
Paycheck Protection Program (PPP)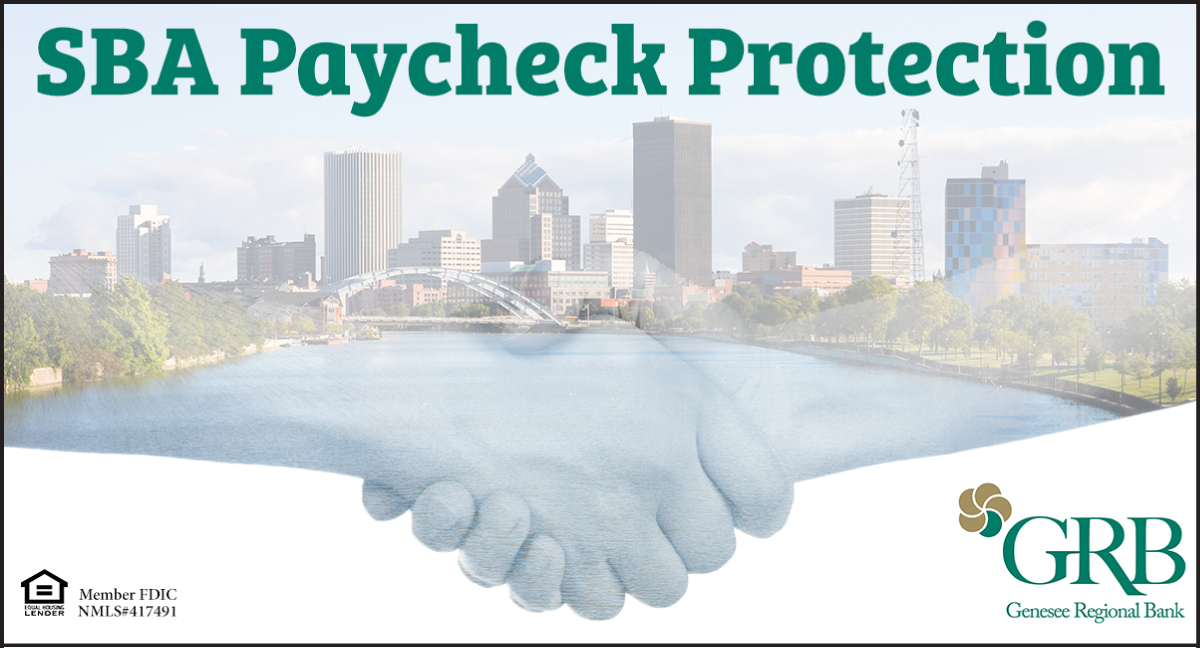 The initial Paycheck Protection Program (PPP) was designed to provide a direct incentive for small businesses to keep their workers on the payroll. Funding for the initial PPP program closed on Aug. 8, 2020. Legislation authorizing a Second Draw of the PPP program was signed by President Trump on Dec. 27, 2020.
UPDATE: GRB is no longer accepting new applications for PPP loans. For those who have loans or forgiveness application in process, please contact your GRB Relationship Manager with questions.
We also ask that GRB customers wait for us to send them an application. Please use the form we send and do not begin filling out the application available from the SBA website, as we will not be able to use it.
Tax Deductibility of PPP Expenses
The bill also specifies that business expenses paid with forgiven PPP loans are tax-deductible. This supersedes IRS guidance to the contrary. This means that businesses that have had or will have PPP loans forgiven will NOT have to pay income tax on that forgiveness. There may be, however, some state tax implications.
First Round PPP Forgiveness Resources
Resources for those still applying for First Round PPP forgiveness can be found here:
Economic Injury Disaster Loan Summary (EIDL)
In September 2021, the SBA announced an update to the EIDL program as follows:
U.S. Small Business Administration (SBA) Administrator Isabella Casillas Guzman announced major enhancements to the COVID Economic Injury Disaster Loan (EIDL) program, a federal disaster relief loan designed to better serve and support our small business communities still reeling from the pandemic, especially hard-hit sectors such as restaurants, gyms, and hotels. The SBA is ready to receive new applications immediately from small businesses looking to take advantage of these new policy changes.
"The SBA's COVID Economic Injury Disaster Loan program offers a lifeline to millions of small businesses who are still being impacted by the pandemic," SBA Administrator Isabella Casillas Guzman said. "We've retooled this critical program – increasing the borrowing limit to $2 million, offering 24 months of deferment, and expanding flexibility to allow borrowers to pay down higher-interest business debt. We have also ramped up our outreach efforts to ensure we're connecting with our smallest businesses as well as those from low-income communities who may also be eligible for the companion COVID EIDL Targeted Advance and Supplemental Advance grants totaling up to $15,000. Our mission-driven SBA team has been working around the clock to make the loan review process as user-friendly as possible to ensure every entrepreneur who needs help can get the capital they need to reopen, recover and rebuild."
Key changes being announced by the SBA include:
Increasing the COVID EIDL Cap. The SBA will lift the COVID EIDL cap from $500,000 to $2 million. Loan funds can be used for any normal operating expenses and working capital, including payroll, purchasing equipment, and paying debt.
Implementation of a Deferred Payment Period. The SBA will ensure small business owners will not have to begin COVID EIDL repayment until two years after loan origination so that they can get through the pandemic without having to worry about making ends meet.
Establishment of a 30-Day Exclusivity Window. To ensure Main Street businesses have additional time to access these funds, the SBA will implement a 30-day exclusivity window of approving and disbursing funds for loans of $500,000 or less. Approval and disbursement of loans over $500,000 will begin after the 30-day period.
Expansion of Eligible Use of Funds. COVID EIDL funds will now be eligible to prepay commercial debt and make payments on federal business debt.
Simplification of affiliation requirements. To ease the COVID EIDL application process for small businesses, the SBA has established more simplified affiliation requirements to model those of the Restaurant Revitalization Fund.
The enhancements to the COVID EIDL program will allow more businesses greater and more flexible support from the over $150 billion in available COVID EIDL funds. Additionally, these changes will help entrepreneurs access capital at a time when, according to a recent Goldman Sachs 10,000 Small Businesses survey, 44 percent of small business owners report having less than three months of cash reserves, and only 31 percent reporting confidence in gaining access to funding.
How to apply
Eligible small businesses, nonprofits, and agricultural businesses in all U.S. states and territories can apply. Visit www.sba.gov/eidl to learn more about eligibility and application requirements. The last day that applications may be received is December 31, 2021. All applicants should file their applications as soon as possible.
For additional information on COVID EIDL and other recovery programs please visit www.sba.gov/relief. Small business owners may call SBA's Customer Service Center at 1-800-659-2955 (1-800-877-8339 for the deaf and hard of hearing) or email DisasterCustomerService@sba.gov for additional assistance. The center is open Monday through Friday from 8 a.m. to 8 p.m. EST. Multilingual representatives are available. Small business owners may also contact SBA's Resource Partners by visiting www.sba.gov/local-assistance.
Application Process and Fraud Control Enhancements
In addition to the policy enhancements, the SBA has invested in optimized processes and increased capacity to improve the customer service experience for applicants. Directed by Administrator Guzman to swiftly and drastically enhance COVID EIDL, the revamped management team implemented new processes and performance management such as prioritizing personnel for COVID EIDL and increasing the average number of loan application decisions made. The SBA accelerated daily processing of loan increases from close to 2,000 applications to more than 37,000 applications daily. Loan officer productivity also went from 1.86 applications per day to 15 applications per day. As a result of these increased loan review rates, the 600,000+ loan increase backlog has been cleared and new applications can be processed immediately. At the same time, and to ensure taxpayer dollars are used to support businesses that need COVID EIDL funding most, the SBA has increased fraud controls and is working in collaboration with the SBA Inspector General to closely monitor the program.
All business owners that have received previous loans through the SBA's Paycheck Protection Program (PPP), Restaurant Revitalization Fund (RRF), or Shuttered Venue Operators Grant (SVOG) can still benefit from COVID EIDL. To learn more about the application process, visit www.sba.gov/eidl.
SBA 7a Term Loan and Line of Credit Payments
The U.S. Small Business Administration will again start making a limited number of payments for borrowers with 7a Loans and Lines of Credit meeting the specific criteria below. The payment schedule and guidelines are based on the date the borrower's loan was approved.
In addition, there is a $9,000 limit each month. Payments may be made for 3 or 8 months based on the business NAICS code. This is not applicable to Paycheck Protection Program (PPP) loans. Qualifying loan payments from the SBA will begin with payments due in February.
SBA Payments are capped at $9,000/month
The difference will remain the borrower's responsibility.
Loans with SBA approval before 3/27/20
SBA will provide 3 payments starting with February statements.
If a borrower is still receiving round 1 payments, round 2 payments will start immediately following.
Loans with certain NAICS codes will receive an additional 5 payments. Please contact your Relationship Manager for specific details.
Loans with SBA approval between 3/27/20 – 9/27/20
May receive payments if the SBA determines there are sufficient funds in the program to do so.
If a borrower has received round 1 payments on a loan, they cannot receive payments on another loan approved after 2/1/21 (does not apply to affiliates).
Loans with SBA approval between 9/28/20 – 1/31/21
Are not eligible to receive payments at this time.
Loans with SBA approval between 2/1/21 – 9/30/21
Payments made less frequently than monthly
Payments will be calculated based on the annual payments amount divided by 12.