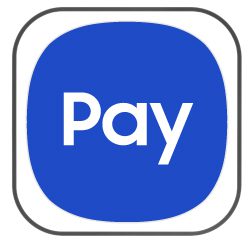 On which devices can I use Samsung Pay?
You can set up a Samsung Pay digital wallet on eligible Samsung devices. It may be necessary for you to update your Samsung device software. Check if your device is compatible here.
How do I add my GRB Debit Card to Samsung Pay?
Open Samsung Pay on your device or download the app from the Google Play Store.

Note, you may need to have an operating system update to your Samsung device in order to utilize Samsung Pay

Navigate to Menu>Cards
Click Add card> Add credit/debit card.
Take a picture of your debit card within the Samsung Pay app or type your debit card number in manually.
Enter your 3-digit security code from the back of your debit card.
You will be prompted for additional verification. You will be provided with the option to receive a one-time passcode to be sent via text message and/or email to your mobile phone number or email that GRB has on file. If you prefer, you will also have the option to call GRB to verify your card. Once you receive the one-time passcode, return to your Google Pay app and enter the code.
Confirm card and accept the Genesee Regional Bank Terms & Conditions
Make your GRB Debit Card your default payment card!
How do I add my GRB Debit Card to Samsung Pay on a Samsung Gear?
On your phone, open the Galaxy Wearable app. From the Home tab, swipe to and tap Samsung Pay. If prompted, sign into your Samsung account. Tap + in the upper right of the screen, and then tap Add credit or debit card. You can take a photo of the card number or manually enter them by tapping Enter card manually. Fill in all required information, and then tap Next. Review the Terms of Service, and then tap Agree to all. Select a method to verify your card, and then tap Submit. Finally, tap Done.
Which retailers accept Samsung Pay?
Any merchant with either a point of sale terminal that accepts a traditional swipe transaction and/or a contactless reader can accept Samsung Pay.
How do I make a payment with Samsung Pay in a store?
When you're ready to pay, open Samsung Pay on your phone. Tap Pay, and select your preferred card. If you have the Favorite Cards feature activated on your phone, you can access your cards even faster. To make a payment with your Favorite Cards, swipe up from the bottom of the screen. Then, swipe through and select your preferred card.
Tap PIN or IRIS, and then enter the required security information. Or if you have fingerprint security set up, simply place your finger on your phone's fingerprint scanner.
Next, hold the back of the phone up to the contactless reader and perform your desired actions.