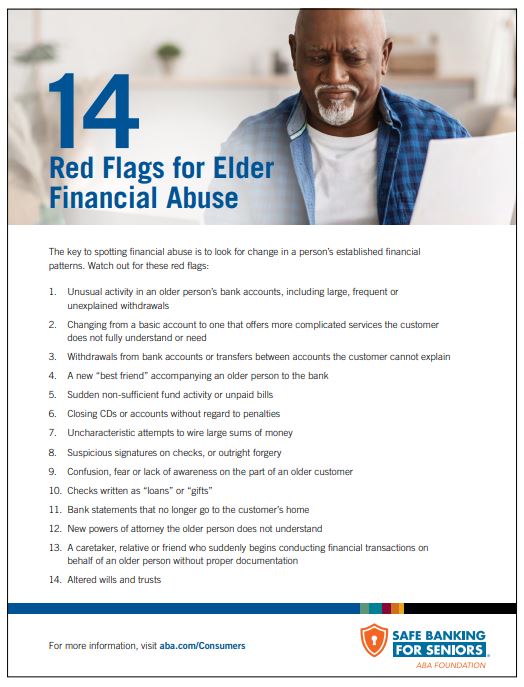 Today is Senior Fraud Awareness Day. GRB has teamed up with the American Bankers Association Foundation to help older adults, families, and caregivers prevent elder financial abuse and exploitation with the Safe Banking for Seniors program. #SafeBankingForSeniors
According to the Alzheimer's Association, 10-20% of elders 65 and older have some type of mild cognitive impairment. Mild cognitive impairment causes a slight deterioration of cognitive abilities, which may affect memory, thinking, and reasoning skills. This can make it easier for them to become victims of fraud.

Types of Fraud
Scams impacting older adults can involve lotteries, sweepstakes, identity theft, home improvement and repair, telephone donation calls, healthcare and prescription drugs, dating, and more.
The attached PDF from the ABA Foundation has 14 red flags that elder financial abuse may be occurring.
Financial institutions have protections in place designed to miminize elder financial abuse. In New York state, the Office of Children and Family Services has oversight on elder abuse and provides the following resources for prevention and reporting:
Getting Help
If you suspect someone may be a victim of elder abuse, contact your local Department of Social Services Adult Protective Services office by searching online or calling 1.800.342.3009, press 6.
---