GRB is proud to support the American Bankers Association (ABA) in this year's #BanksNeverAskThat anti-phishing campaign. In conjunction with Cybersecurity Awareness Month, we're providing tips to help even more consumers beat scammers at their own game. Last year, nearly 1,700 banks in all 50 states joined forces, including GRB, for the first #BanksNeverAskThat campaign. We're happy to participate in 2021's event with social posts, in-branch materials, and other educational resources.
Phishing risks
Every day, thousands of people fall victim to fraudulent emails, texts and calls from scammers pretending to be their bank. We want to help change that by raising awareness among our customers with best practices for creating a personal phishing defense. And phishing scams are costly, leading to losses of as much as $3.3 billion each year.
Some of the questions below may seem harmless. But every piece of information a scammer obtains brings them one step closer to stealing your identity or accessing your accounts.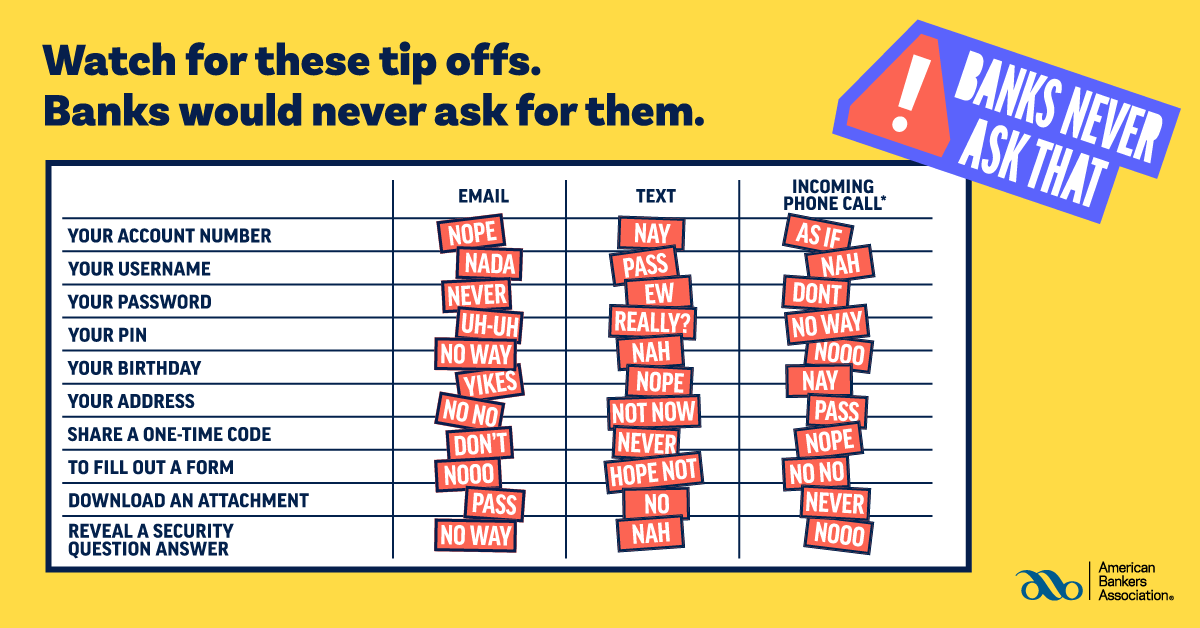 Remember, #BanksNeverAskThat
If you receive an unexpected phone call, text or email from someone claiming to be GRB, think twice and protect yourself with these strategies:
Add GRB's phone numbers to your phone. If a call isn't coming from a recognizable GRB number, it might be a scam. Call us on a number you know is legitimate. We are happy to verify any requests you receive by phone.
If you don't have text banking set up for your account, and still receive a text message, be suspicious. Often, these text messages are meant to sound urgent so you'll click. Contact GRB and ask for verification.
Email messages with blurry images, misspelled words and poor grammar should be suspect. Requests to verify information or provide personal information via email should also be avoided.
More anti-phishing resources
If you want additional information on ways to protect yourself from phishing attacks, go to BanksNeverAskThat.com.
The Federal Trade Commission website also provides information on How to Recognize and Avoid Phishing Scams.
Don't forget to check the GRB website for additional Security Resources and common fraud trends.
Use these tips to stay safe and avoid scams!
---