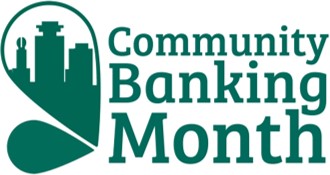 The idea of "sustainability" is linked to a lot of local activities these days. We reuse and recycle products, make purchases at a local bakery, and choose to buy American-made products. We know this supports our national economy. In turn, there are plenty of reasons why eating, dining, and banking locally makes good economic sense. Community Banking Month is the perfect time to reflect on banking locally.
If you've ever wondered if it matters where you deposit your hard-earned money, let me assure you it does. Banking locally certainly supports small businesses. But that's not its only contribution. As a locally owned and operated business, community banks are part of the economic engine that creates 62 percent of new jobs annually.
Community banks put people first
Community banks like GRB take in deposits and distribute loans that feed into a self-sustaining micro-economy. Our deposits and loans keep funds right here in Upstate New York. And the proceeds from those businesses employ residents, fund municipalities, and continue the cycle of locally based economic growth.
And if you need more proof, just consider the community bank response to the coronavirus pandemic. Community banks were the economic first responders. They made 60 percent of total Paycheck Protection Program loans to small businesses. During Community Banking Month, it's important to note that as a group, community banks are:
The preferred small business lenders. Community banks maintain an 81 percent net satisfaction score. This compares to

68 percent for large banks and just 43 percent for online lenders.

Responsible for funding more than 60% of small business loans and more than 80% of agriculture loans.
Consistently demonstrating their safety and soundness with higher capital ratios and better loan quality than the largest institutions.
Often operating in areas abandoned by others—serving as the only physical banking presence in nearly one in three U.S. counties.
Local benefits every day
But it is not just about stats. At GRB, our employees are empowered to find solutions to meet our customers' goals. And when our employees log volunteer hours or when GRB contributes to local charitable organizations, we help ensure economic prosperity and quality of life.
April is Community Banking Month, and we thank our customers for putting their trust in us for their banking needs. For our neighbors who may be considering a switch, take a closer look at GRB. We pledge to never lose sight of the all-important "relationship" and the personalized service our customers expect. For more information, visit our Business Banking, Personal Banking and Home Mortgage pages.
Remember, we are all in this together. Community banks are only successful if our customers and communities are, too. We know what it takes to create successful local economies. Join us in helping to build a more sustainable, vibrant economy here at home! Bank local with GRB and celebrate Community Banking Month!
Follow our social channels for special Community Banking Month features throughout the month of April.
---