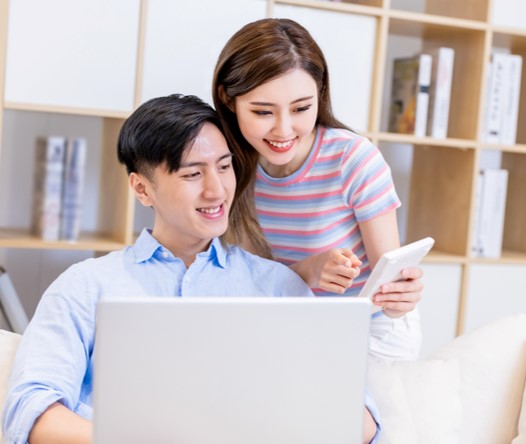 Managing your financial future usually means opening checking and savings accounts. These accounts enable you to make payments, keep your funds accessible, and earn interest. What do you need? What are the advantages and disadvantages of each account?
The following Frequently Asked Questions provide some basic information to help build a strong financial foundation.
Bank Account Basics
What is a checking account?
Checking accounts are typically used to pay for everyday bills and expenses, like gas, groceries, rent, etc. A checking account provides the ability to make payments using paper checks, a debit card linked to the account, and online or mobile banking with electronic transfer capabilities. Checking accounts are often where an accountholder's paycheck goes via direct deposit. They usually offer a nominal interest rate. See an overview of all of GRB's checking account options.
What is a savings account?
Savings accounts are a better choice when you want to put money aside, but still want to keep the funds easily accessible. Typically, Federal law prohibits more than six withdrawals or transfers per month from a savings account without incurring fees. However, this requirement was suspended during the COVID-19 pandemic. Still, a savings account's strength is in its ability to provide a higher rate of interest for the balance in the account. Withdrawing the funds frequently reduces the accountholder's ability to secure those benefits. See an overview of GRB's savings account options here.
Choosing the Right Checking and Savings Accounts
Do people typically have both types of accounts?
In general, people tend to use checking accounts to pay for everyday expenses because the money is more accessible. But because they earn little interest, checking accounts are not usually a great place to store any extra cash you may save. That's where your savings account comes in. There are, of course, exceptions. GRB is currently offering a higher interest rate on its Reward Checking account than it is on any of its savings accounts. Always look at all of the account options before making a decision.
Are there fees associated with checking and savings accounts?
In many cases, fees for savings and checking accounts can be avoided by understanding how you intend to use your account. Banks typically offer a number of account options and fees can often be avoided with simple things like setting up direct deposit or maintaining a specific balance. Read through all of the terms associated with an account to ensure you understand any limitations or fees related to withdrawal amounts, account activity, minimum balances, overdraft transactions, etc. Ask a personal banker for assistance!
Managing Your Bank Accounts
What information is needed to open a checking or savings account?
When you apply to open an account, it is important to provide the correct documentation. You will need a government-issued photo ID like a driver's license, state-issued ID, or passport. Some banks require a second form of ID. This could include a Social Security card or birth certificate. You'll need to provide your date of birth, proof of a physical address, and a Social Security Number (SSN) or Taxpayer Identification Number (TIN). You will also need to deposit some money to provide an opening balance in the account.
What do the numbers mean at the bottom of a check?
The series of numbers at the bottom of your checks may look random, but each piece actually provides important information designed to ensure payments are routed to and from the correct accounts. Knowing how to locate these numbers is helpful when you set up automatic payments for monthly bills or fill out forms for account-related activities such as direct deposit. 

The number is made up of three parts: the Bank Routing Number (the first nine digits from the left), your Account Number (the next 10-12 digits), and your check number (which matches the number in the upper right of your check).

GRB's consumer bank routing number is 022313021.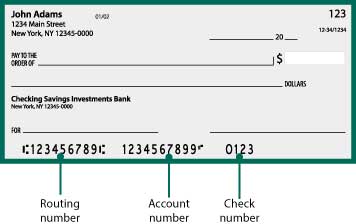 Contact Us
Setting up a checking and savings account is the first step. These accounts help you save for important goals, establish a solid credit score, and ensure your money remains safe. As a federally chartered financial institution, GRB provides FDIC insurance for both account types.
When you are ready to take the next step and open an account, please contact our Personal Banking team. They are available by phone or at a branch near you.