The safety and security of your finances is a primary concern for GRB. Check this page if you need to report a stolen debit card or need information on eliminating the risk of fraud. Use the QuickLinks below to find what you need.
Lost or Stolen Cards
If your GRB debit card is lost or stolen, please contact us in one of the following ways:
Fraud Alerts & Resources
Protect Your Personal Information from Identity Theft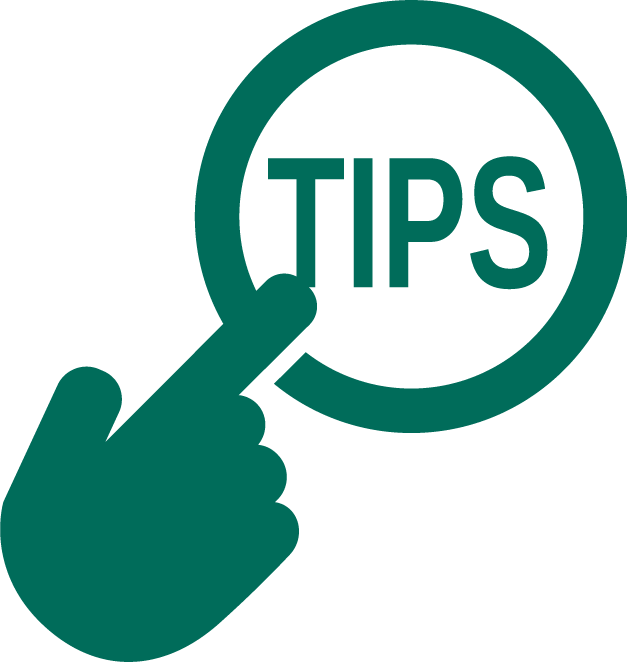 In 2018, the Federal Trade Commission processed 1.4 million fraud reports totaling $1.48 billion in losses. Whether you are shopping online or in stores, be mindful of common theft techniques that could put your financial future at risk.
According to the Center for Identity Management and Information Protection, follow these suggestions to help protect your personal information:
Always limit to whom you give your date of birth, mother's maiden name, or other confidential information.
Do not be afraid to question why someone needs your personal information.
Minimize the amount of information you carry with you.
Remove old deposits slips, blank checks, and other confidential information that you do not need to carry from your wallet or purse.
Cancel credit cards that you don't need.
Check your credit cards after each use to make sure that you have received your own credit card back after making purchases.
Always guard passwords and PINs.
Limit the information on your personal checks to your name and address.
If you do not have a locking mail box, consider having your new or additional checks for your checking account mailed to your bank for pickup.
Do not leave in your vehicle, especially in plain view, any items with personal information such as insurance cards, vehicle registration, wallets, purses, or laptops.
Remove from your vehicle or hide from view your garage door opener because the garage door opener and vehicle registration with your home address provides thieves with the tools needed to locate and easily enter your house while you are away.
Avoiding Business Account Fraud
To avoid fraud, you need to understand the most common way thieves target your company, your people and your systems:

Other Resources to Help Your Business Prevent Fraud
Cybersecurity for Small Business website hosted by the Federal Trade Commission
Protecting Small Businesses website hosted by the Federal Trade Commission
CyberCrime website hosted by the Federal Bureau of Investigation
Internet Crime Complaint (iC3) page from the Federal Bureau of Investigation
Traveling Outside the U.S. and Canada? Let GRB Know!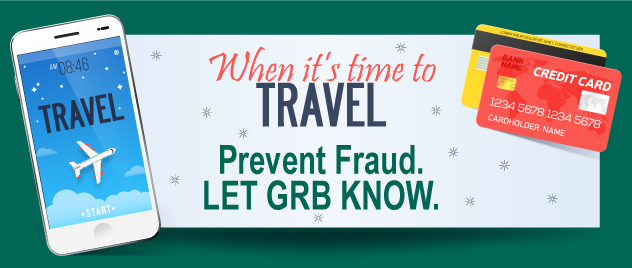 GRB currently blocks ATM and Debit card transactions originating outside the U.S. and Canada to help reduce the risk of fraud. In order to ensure uninterrupted card access when traveling, please contact GRB prior to your trip. We can update your account to allow ATM and debit card transactions to select countries during your travel timeframe. This will ensure your card access remains uninterrupted.
We feel this additional verification process will help ensure that our customers are able to remain safe and secure when using their cards. Please contact our customer service team at 585.249.1540 or stop in at a branch to make arrangements when you travel.
If at any time you suspect your cards may have been compromised, please contact our Fraud Center at 800.237.8990.
Check Cashing Scams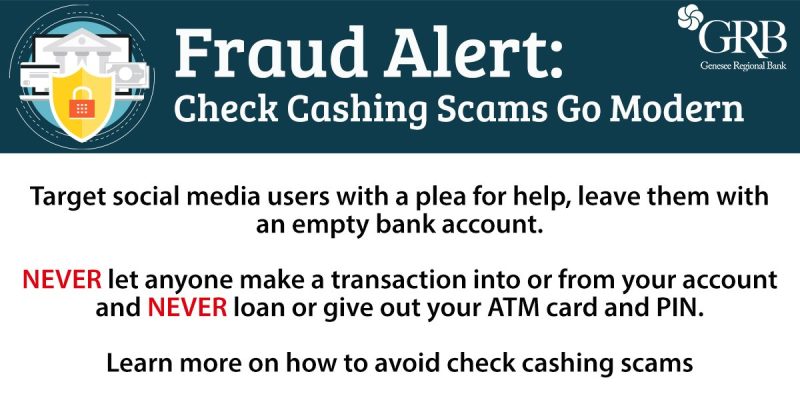 Please take steps to avoid becoming the victim of a check deposit scam. These scams are often targeted at younger accountholders with ATM and debit cards. Fraudsters make contact with the victim (a helper), often via social media, and convince them that they need the helper's assistance to cash a check. The story will be good (stranded outside the country, accounts frozen, IRS threat, etc.). Once the helper cashes the check, the fraudster asks for the helper's ATM card and PIN number or, in a related scam, asks the helper to wire the money or buy gift cards and send them to him/her. For their trouble, the helper is paid a finder's fee — often up to half of the money deposited, which appears quite generous. Unfortunately, once it is discovered that the check is fake, the helper has now become an accomplice to the crime AND is responsible for making restitution for all of the money.
To avoid becoming the victim in a check cashing scam always remember:
Never let anyone use your account to facilitate a transaction, and especially if they request that you give them your ATM card and PIN, wire back funds, or purchase gift cards to pay them back. There is no legitimate reason for someone to pay or overpay you and then ask for the money back in another form.
Never give out your ATM card or PIN. Never.
Be suspicious of jobs that pay your expenses using this methodology. Secret Shopper scams are rampant. You are "hired" as a Secret Shopper and paid in advance, via check, for your expenses. Using those funds, you are instructed to test money transfer services like MoneyGram or Western Union or to buy gift cards and send photos of them to the fraudster. When the check is discovered to be fraudulent, the unfortunate Secret Shopper is responsible for paying back all of the money from the fake check deposited into their account.
Fraud Prevention Service
When our systems detects potential fraud, you will be contacted in the following manner:
Remember – our messages will never ask for your PIN or account number.
* The phone number for our Fraud Center is 800.237.8990. Add this number to your phone contacts and label it "GRB Fraud Center," it will display whenever you get a call from this number.
FBI Issues Warning About "CEO Fraud"
The FBI recently released a warning about a significant increase in scams known as "CEO Fraud." This type of fraud usually involves thieves gaining access to an executive's email (by phishing) or impersonating the executive by using a similar email address. The thieves send emails to company employees giving the appearance of providing legitimate wire transfer instructions.
Read more from Krebs on Security
Here are some ways you can protect your accounts:
Please contact your Relationship Manager or a Commercial Relationship Associate promptly or call us at 585.249.1540 if you think you may have been the victim of fraudulent activity.
Ransomware Attacks on the Rise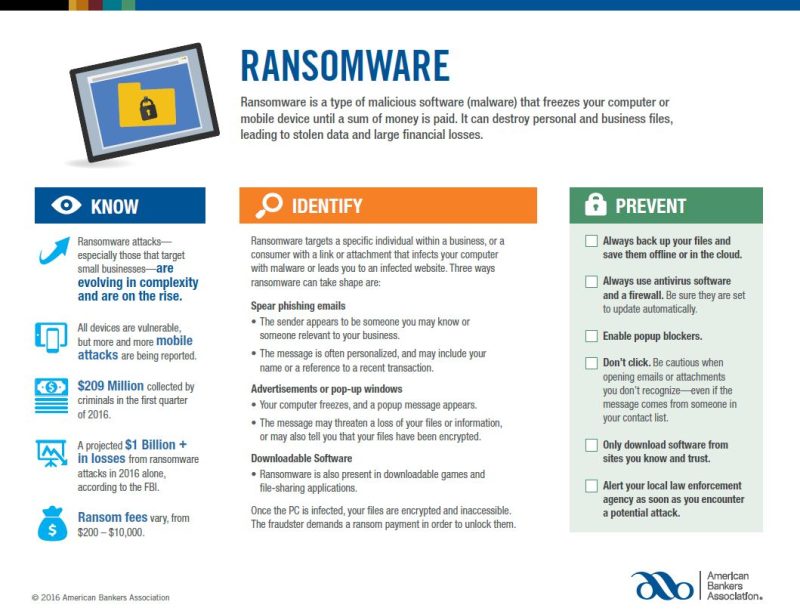 The American Bankers Association has released a new infographic to help customers understand, identify and protect themselves from ransomware — a type of malicious software attack that freezes computers and mobile devices until the victim pays a sum of money (ransom) to the attacker to release their files. The FBI estimates that more than $1 billion will be lost to ransomware attacks in 2016.
To combat the threat of ransomware, consumers are encouraged to use caution when opening emails or attachments they don't recognize, back up their files, use popup blockers to avert unwanted ads and malware and keep operating systems security software up to date. Businesses should also take proactive steps against ransomware by educating employees, managing the use of privileged accounts, having a data backup and recovery plan for all critical information and alerting law enforcement when faced with a possible attack.
Learn more about ransomware from the ABA.
Security Manager
Effective immediately, GRB introduces Security Manager, a text-based authentication feature that verifies certain types of BillPay and Bank to Bank Transfer activity on personal (not commercial) accounts.
You will receive a pop-up message when you login to GRBonline requesting your cell phone number. Follow the steps as prompted to enroll in Security Manager. Once enrolled, you will receive a prompt to enter a code whenever you initiate BillPay to a new, check-based recipient or set up a transfer to a new outside bank. This provides an additional layer of security against unauthorized transfer attempts on your accounts.
Security Manager does not impact cash management customers or BillPay/Bank to Bank Transfers on GRBmobile. As with all customer information, your phone number and carrier information will not be shared, per GRB's Privacy Policy.
Please contact one of our branches if you have questions.
How GRB Protects Your Information
GRB is committed to protecting the personal information of our clients. GRBonline uses several different methods to protect users' information, including multifactor authentication, secure tokens, and anomaly detection software. Additionally, all information within GRBonline uses the Secure Socket Layer (SSL) protocol for transferring data. SSL is a cryptosystem that create a secure environment for the information being transferred between your browser and GRB. All information transferred through GRBonlinehas 128-bit encryption; the highest level.
GRB will never request personal information by email or text message, including account numbers, passwords, personal identification, or any other confidential customer information. Fraudulent emails may be designed to appear as though they originated at GRB. DO NOT respond to any email that requests personal or confidential information and do not click on any links in such an email.
If we contact you, it will be done in a manner that protects your personal information and we will clearly identify ourselves. If you contact us, we may ask verifying questions.
Safely Managing Online Transactions for Your Business
As more and more of our financial transactions move online, fraud and identity theft are becoming an even more significant threat to financial institutions, businesses and individuals alike. Cyber crime is always evolving and criminals are always looking for new technologies, and scams to secure information and data that can be used to attempt fraudulent activities. Whether you are a business user or individual customers, it is important that you remain vigilant regarding your use of the online environment to conduct financial transactions. This information is also provided to help you understand how GRB will conduct business in the event we need to contact you regarding your accounts:
The following represents GRB's standard business practice regarding your online transactions:
GRB will never email, call, or otherwise ask you for key account information (i.e. username, password, electronic banking credentials, etc.). No matter how "urgent" the email may seem, resist the temptation to respond to it and provide any kind of account or personal information. If you ever have any questions about a request, please contact GRB directly.
GRB also encourages its clients to protect themselves and their identity by following best practices for online security, including:
In addition, we recommend that business account holders conduct regular monitoring and management of their accounts for fraudulent behavior. This could include making a list of the risks related to online transactions conducted by your business including:
Businesses can also reduce fraud risk by putting the following controls in place:
Federal regulations under the Electronic Fund Trasnsfer Act provide consumers with some protections for electronic fund transfers. These federal laws establish limits on a consumer's liability for unauthorized electronic fund transfers. They also provide specific steps you need to take to help resolve an error with your account. Note, however, that in order to take advantage of these protections, you must act in a timely manner. Make sure you notify us immediately if you believe your access information has been stolen or compromised. Also, review your account activity and periodic statement and promptly report any errors or unauthorized transactions. See the Electronic Fund Transfer disclosures that were provided at account opening for more information on these types of protections. These disclosures are also available from GRB – ask us and we will gladly provide you with a copy.
Even though there are protections in place to help consumers, keep in mind that the disruption of fraud will still be time-consuming and require a significant amount of effort to make your accounts correct and secure again. It is best to take steps to actively avoid giving cyber criminals the opportunity to make you a victim.
If you become aware of suspicious account activity, or receive any suspicious emails, you should immediately contact GRB at 585.249.1540.